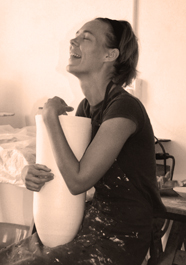 Sarah Walters has a Fine Arts Sculpture degree from Norwich School of Art and Design in the UK.
After completing her degree in 2001, she returned to South Africa to be with her family. It was then that she got hooked on ceramics, and began to work alongside her dad,
David Walters
. In 2004 she moved to Cape Town and her own studio. While there, she served on the Committee of Ceramics Southern Africa. She won the Potter's Association New Signature Award, Western Cape, in 2002, and has since exhibited widely.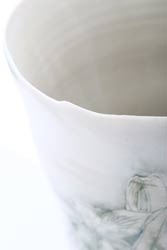 Her background in sculpture informs her inventive use of form and the experimental nature of her work.
'My initial training and background is rooted in sculpture and it is on this foundation that I have built my approach to my current work. I have always been inspired by nature and the human form. However, the concept of function, and the part that beautiful pottery can play in the every day lives of people, also informs the kind of work I make. My aim is to try to tread the line between the organic freshness of form in nature and the elegance of form in function.'
Visit Sarah's Website here!
Sarah now lives and works from her home studio at 7 Wheelan Street, Newlands. Her Gallery is open Tuesday to Saturday, mornings only. Contact number 021 871 4576.
SOME OF SARAH'S WORK: